Yesterday, the Journalism students of our batch were pulled out since we had to have the elimination for the upcoming city-wide journalism contest. We were asked to try out for 2 categories and since I am nearly clueless when it comes to journalism, I chose Feature writing. In this category, we had to write a personality sketch about anyone. This really stumped me. Who would I write about? I asked myself who my favorite person was but I came up with a blank. I was gonna settle for Leonardo da Vinci when it hit me that I should write about Die Antwoord.
Yo-Landi says hi
And now since I've missed blogging, I decided to write about the duo because I really like them and..maybe you guys might like them too weee!!
I first heard about Die Antwoord a few years ago while I was looking for a new artists I could get addicted to. I watched a video of theirs and I totally got creeped out so I immediately crossed them off my list but just this year I saw someone make a post about them saying that they TOO were scared of the duo before but after watching Fatty Boom Boom, their views apparently changed. And since I had nothing better to do, I checked out Fatty Boom Boom as well and..........fell in like with Die Antwoord. The first time I watched the video I was all yeah no I still don't like them. But I couldn't stop hitting the replay button and I couldn't stop thinking and talking about them and so after a while, I got hooked huhu.
The tandem is composed of Ninja, a tall gangly guy with tons of tattoos and a very sick imagination. He came up with the costumes and almost everything about Fatty Boom Boom and Yo-Landi Vi$$er, is his very mischievous sprite-like spouse. They perform with the ever mysterious DJ HI-TEK who never shows his face even when he's topless already, he has to have a mask on.
Their style is as functional as their name. Their South African alias, Die Antwoord, sounds so foreign and mystical and so voodoo voodoo-y. While the translation of their name, The Answer, is what they really are. The Answer to the music industry's dilemma which is the lack of freshness. Ninja was interviewed before and asked about his previous rap groups and he said that he dabbled on various groups since he was looking for something and that somethaaaang turned out to be Die Antwoord hihi.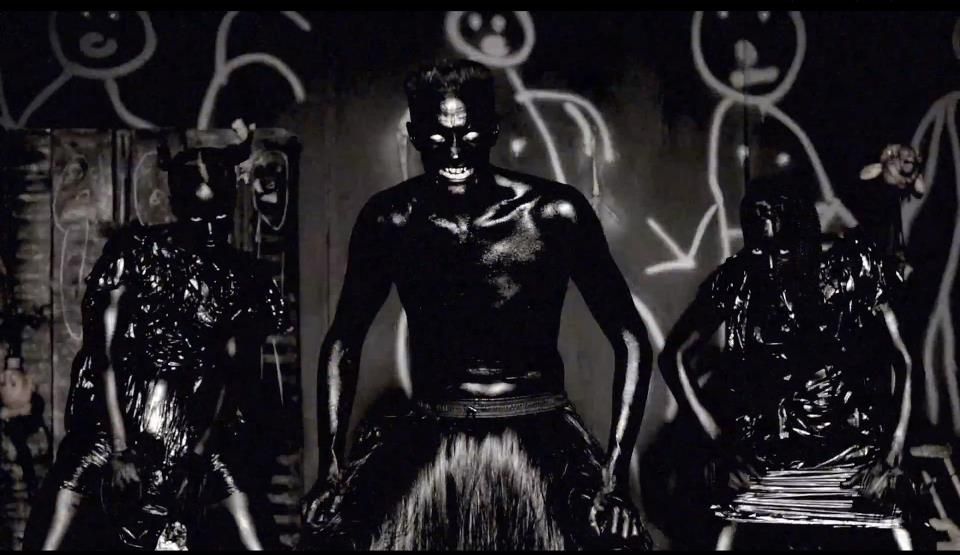 Voodoo voodoo voodoo roooom
After watching their behind the scenes video, I saw that they're just very weird and equally artistic people and I really like that hehe.