My family and I finallyyyyyy had the time to explore the uncharted territory that is the north. We tend to just have our nights out inside BF and so last Saturday was definitely a stretch for us haha.
I brought Paeng and Bogart with me since I couldn't say goodbye to their adorableness just yet
Our first stop for that day was SM Cubao since it was near Cubao X (which is a place that I really really was dying to visit) and plus my sister had to go look for clothes. Even while we were still at the parking lot, my sister was regaling a tale of when she and her friends went up north for an ukay spree. She mentioned something about feeling and looking like tourists and that's what happened to us upon setting foot in the mall.
No department store raid is complete without me paying a visit to the toys section...
....and going gaga over toys. I remember I used to dream of owning those humongous Bratz heads that were made for make-overs. Every Christmas and birthday, whenever I'd receive a huge semi-heavy box, I'd get my hopes up and think it was that but it usually ended up being something else entirely less glamorous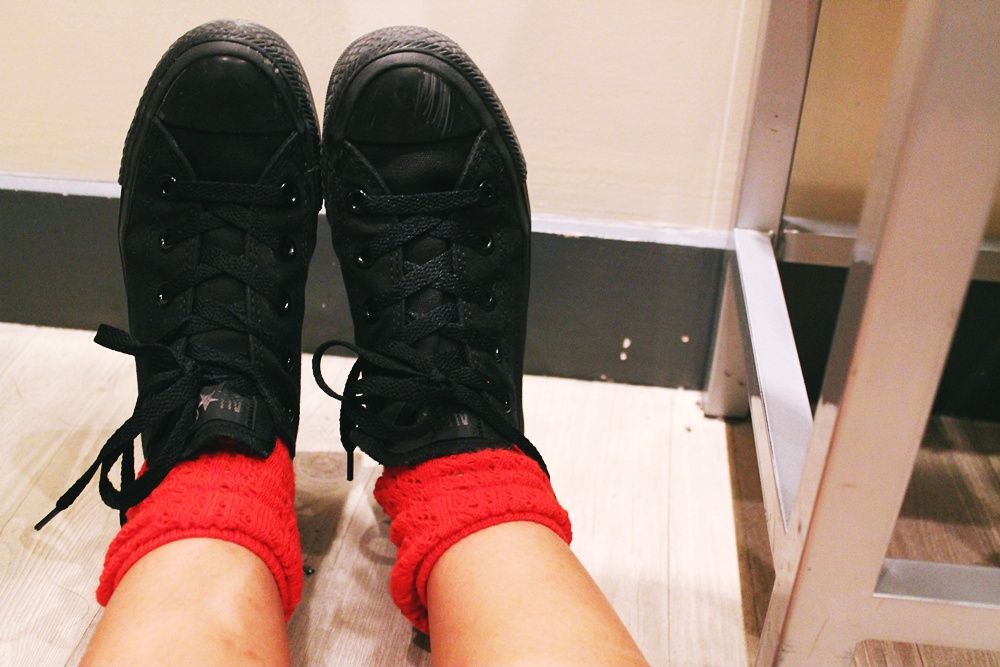 While my sister tried on clothes, I just sat on the floor and waited. I find it really cool when patient people just sit there and let their minds run blank and simply...wait. Life is short and all but it's really nice to see people take the time to pluck themselves from all the hubbubs and the chaos and just sit and be peaceful hihi. I also loike this photo because I love the shoes Nath gave me and my socks huhu.
After my sister bought her clothes, we walked to Cubao X!!!! Huhuhu I was so stoked to finally go there. Ever since I first heard about it, I've been meaning to visit. When I went through my film camera/lomography addiction phase and found out this was the place to go to..I died one more time.
Upon arriving, I was hit by a wave of nostalgia. It resembled the streets of Vigan a bit but this made me almost cream my pants since everywhere I looked, thrift shops and collectible shops bombarded my vision
We went to thrift shops and antique shops but sadly most of them did not allow picture taking and some of them were really a collector's wet dream. But among the shops we went in to, my favorite would have to be the bubbly and lively and super fantastic, UVLA.
UVLA or Unique Vintage and Lost Art is located in I must say the secluded corner of the strip. We almost passed by it but then the striking signage caught our eyes and so we went inside...and had our minds blown. At first sweeping glance, the store already packs a punch with its contrasting aura; it was cluttered but the entire place seemed very bright and so homey.
I was busy looking at the keychains and sunglasses they had near the front door when my sister got all spazztic and excited. I looked at the source of her giddiness and found a big Polly Pocket play house thingy. Sometime last year, she somehow saw a photo of those old Polly Pocket toys and instantly missed her old toys! We tried looking for them on the internet but they were the sellers were a bit shady looking and she became preoccupied with other stuff ultimately pushing her cravings to the back of her mind. And now, after seeing the Polly Pocket thingy, she asked if they had more and died when the lovely owners showed her a trunk full of Polly Pockets!!!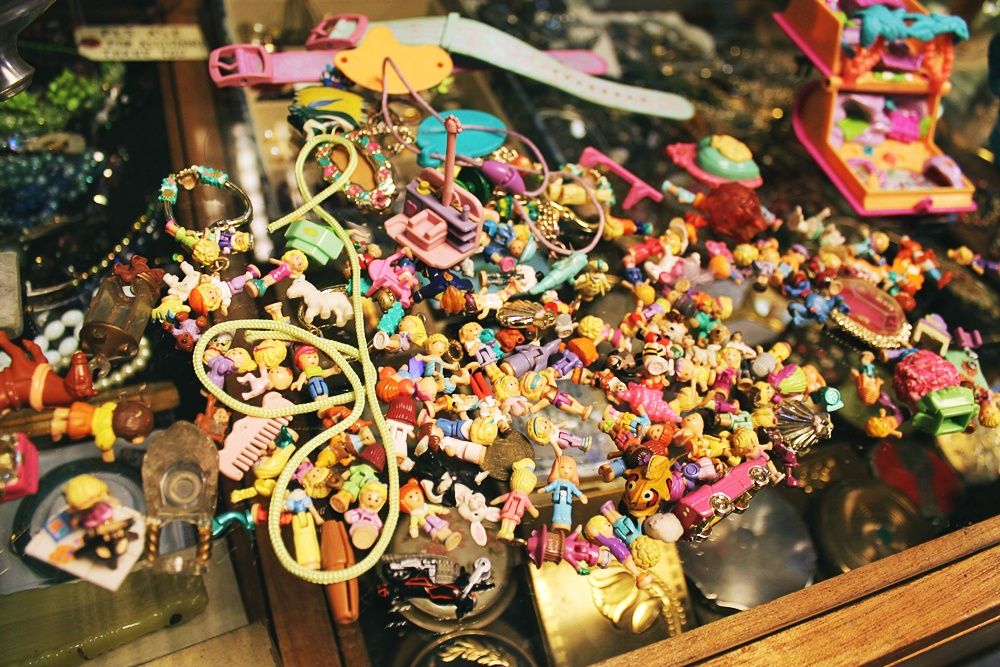 The accessories that came with the Polly Pockets hehe they were all so cute!
I remember we used to have the one in the middle and the one in the right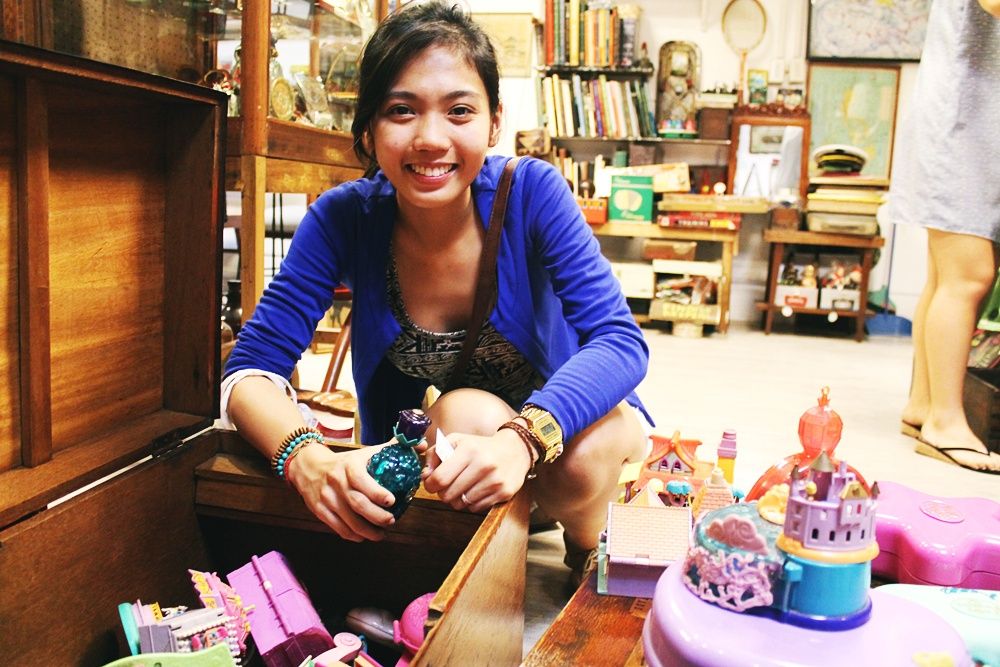 Very very happy girl
While she drowned in the Polly Pockets, I went around and surveyed the stuff for sale. There were SOOOOO MANY cool stuff I couldn't believe it. They had vintage comics (a copy of Tale From The Crypt was there huhu), vintage post cards, vintage wallets (that were oh so purty), lots of vintage toys and other war memorabilia if I'm not mistaken.
After my sister finally settled on buying the blue bubble Polly Pocket, I also bought three Polly Pocket watch straps that caught my eye hehe. Time really flew inside UVLA! After we paid for our purchases, we had our picture taken with the lovely mother-daughter tandem because they were so nice and so cute and so cool for coming up with a store like theirs.
If you love vintage stuff and well lost art (hehe) you most definitely should drop by UVLA! You will enjoy it for realsies and it's never a bad thing to let go once in a while and go back to your childhood.
After UVLA, we met up with our parents at Fred's Revolucion where they were finishing up a plate of Puerto Rican lechon and this super duper yummy sausage that I don't know the name of HAHA. It's a nice place to just chill out and catch up with friends and it was so adorable since they had a sign posted that said something like 'We might not have CCTV but Chuck Norris is watching' HEHE so cute!!!
Uknown yummy food at Fred's!
After filling our tummies a bit, we continued walking around the place.
My parents already looked around while we were at UVLA and so they told me about a place teeming with books and magazines and tapes and I just knew I had to check it out.
Feeling oh so scholarly
I went to Clark and thought that that would be the sole place that I'd find old film cameras....Cubao had them all along too...now I know hehehehehe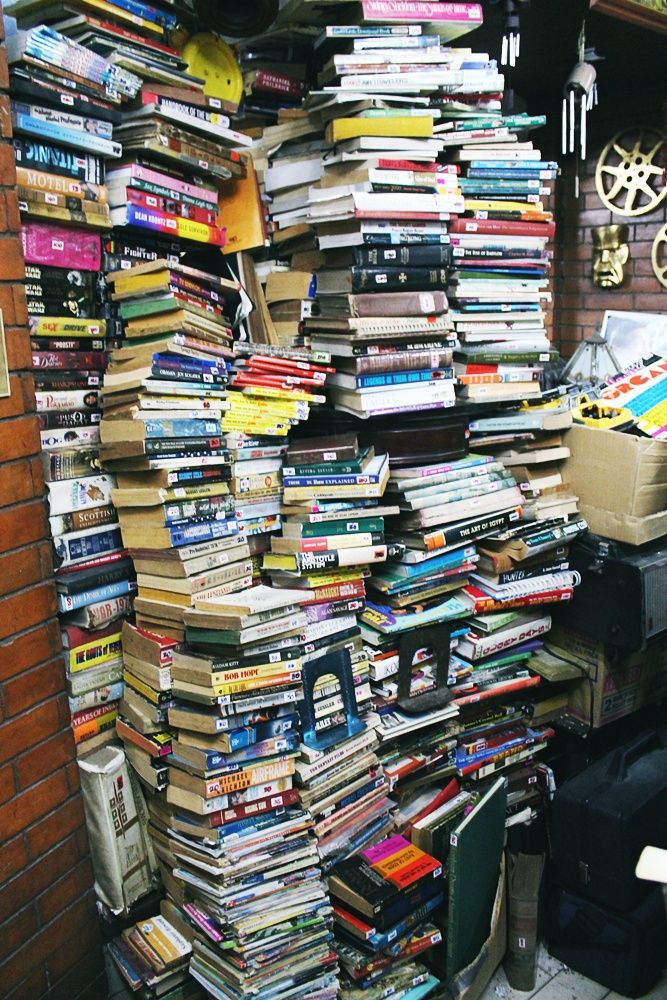 Bibliophile rearing its ugly heaaaaaaaad
Cubao X is such a nice place huhu. I will definitely pay it another visit preferably when my wallet would be fuller hihi. I bet going there with my friends would also be heaps of fun. Seriously, I promise this is not the first and last time I get to see this marvelous place.
After walking back to our car, we drove around and looked for a good place to eat dinner at. We saw this super lighted establishment and for a moment I understood how moths must feel whenever they'd see a flame. I get you, mr. moth, I get you.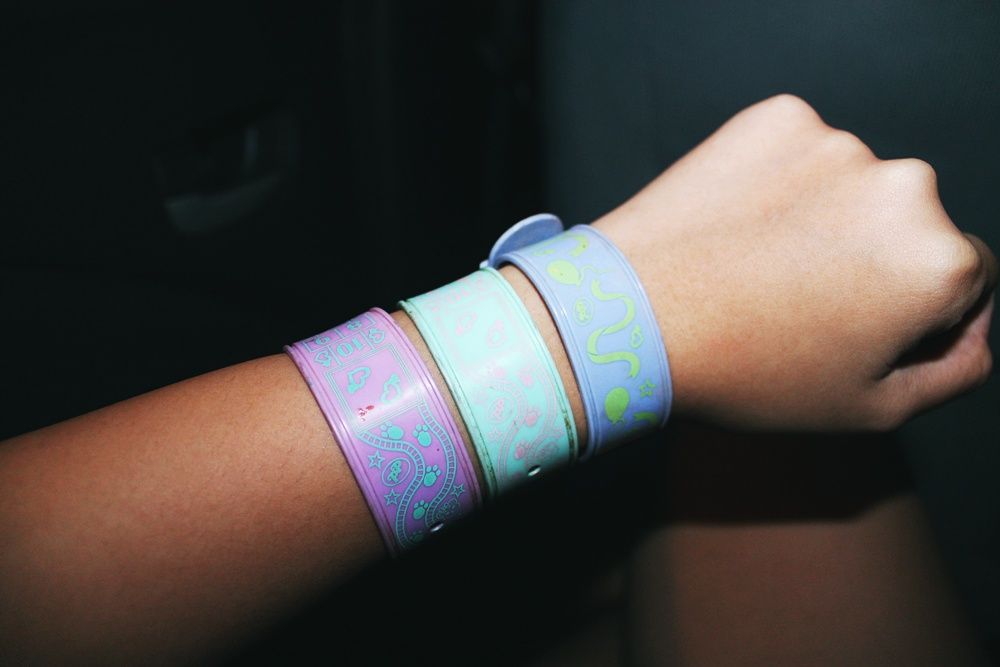 So heppeh
We settled on Mario's since my good friend Diana suggested it and it turned out that my dad knew about it as well having lived in Quezon in his younger years. All I can say about Mario's is the food is heavenly. I had the urge to either buy the chef so I'd have yummy food 24/7 or have like 10 extra mouths and digestive systems so I could eat as many as I want to or be a pig and not have a thalmus so I'd eat even tho I'm already full and not feel a thing!
After dinner, we were so full so we just drove around for a while looking for any restaurant or cafe that seemed nice. We contemplated going inside Zirkoh because Aljur Abrenica was there that night and gusto namin makita hotdog ni Aljur and Laffline had Chokoleit who is some sort of staple in my childhood already HAHA. But alas we did not go into any of those but instead we got comfy in Kitchen of Cakes and Coffee.
I had to take a picture because.....this is how Daniel Padilla would say my name
Their cookies looked so much like mine it was so cool
After getting all hyper and noisy in the car, my energy level seemed to drop at 0 once we got inside and it took all of my strength not to fall asleep while waiting for our cakes.
The food was okay. The place was nice because of the very chill ambiance and the very nice staff hehe. We watched a couple of LC-Learns' videos while we were there and had a great time. It sort of felt like we were in the house in the show The Bear in the Big Blue House, that's how cozy and warm and fuzzy it felt inside!
It was closed when we got to the area huhu definitely promise to check this out next time
Our time up north was just so fun and nice and amazing and stupendous and wonderful and all the other nice adjectives I cannot think of right now. It definitely was a change of scene for us but I can say that the north pretty much rules when it comes to fast-paced hang outs and thrift shop endeavors!